Scuba Vs Freediving
What is a better skill to have? Should I do a Freediver course or an Open Water course? If I am a scuba diver, should I do a freediving course? Do you prefer Freediving or scuba diving? Many of our students and guests ask me questions like these. And the answer is not always a 'clear cut'. Each has their own benefits and drawbacks. They are very different from each other, yet somehow complimentary. Here are a few points to think about when comparing these 2 amazing water activities.
The Gear
Obviously, the first difference that comes to mind when comparing scuba diving and freediving, is the gear. The word SCUBA comes from the acronym of the words Self-Contained Underwater Breathing Apparatus, which refers to our scuba system – the regulator, BCD and air tank. These 3 items, combined together, give us the ability to breathe comfortably and quite safely under the water. The tank holds the air we breathe, the regulator brings the air to our mouth in a pressure suitable for breathing, and the BCD helps us not to struggle with buoyancy and keeps us safe. With this system, we can stay and experience the aquatic world for very long periods of time, and safely spend many minutes (or even hours) enjoying the underwater environment. But, it also means, we need to have that gear, carry it around with us and it might make it hard/uncomfortable (sometimes) to be on the surface. Which is, of course, worth it if you get to see a massive school of jacks, for example.
Freediving is a whole other deal, as it entails holding your breath and diving without any external aids or systems. It is the older, more 'natural' and primal way of underwater exploration, the way our ancestors learnt about the realms of fish. Some specific cultures were so dependent on freediving for food, they genetically evolved to have larger spleens, which helps with longer breath holds. This does not involve any of the scuba equipment. Generally, all you need for freediving is your body. Some pieces of gear are used to make it a bit more efficient and easy, like fins and masks. But in its purest form, freediving is all about your own physical abilities. One of my favorite things about freediving is that I can just grab my mask, get in the water and go on an adventure, with no meticulous planning or hauling of gear.
Time Difference
The second major difference would have to be the amount of time we can spend submerged and the depths we can reach with scuba gear as opposed to when we freedive. Theoretically, with the right amount and blend of gases, and the right exposure suit, we could stay under the water indefinitely. Technical diving allows us to go deeper and stay longer, while using (mostly) regular scuba gear. To this date, the longest dive ever done in an open saltwater environment, was 142 hours and 42 minutes, just under 6 full days. And the deepest scuba dive record stands at 332 meters/1089.24 feet. For comparison, the longest natural breath-hold recorded was 11 minutes and 35 seconds. As for depth, the swimming record is of 130 meters/426.5 feet. Of course, these numbers don't represent the recreational times or depths we go to while scuba diving or freediving, but the difference is more or less to scale.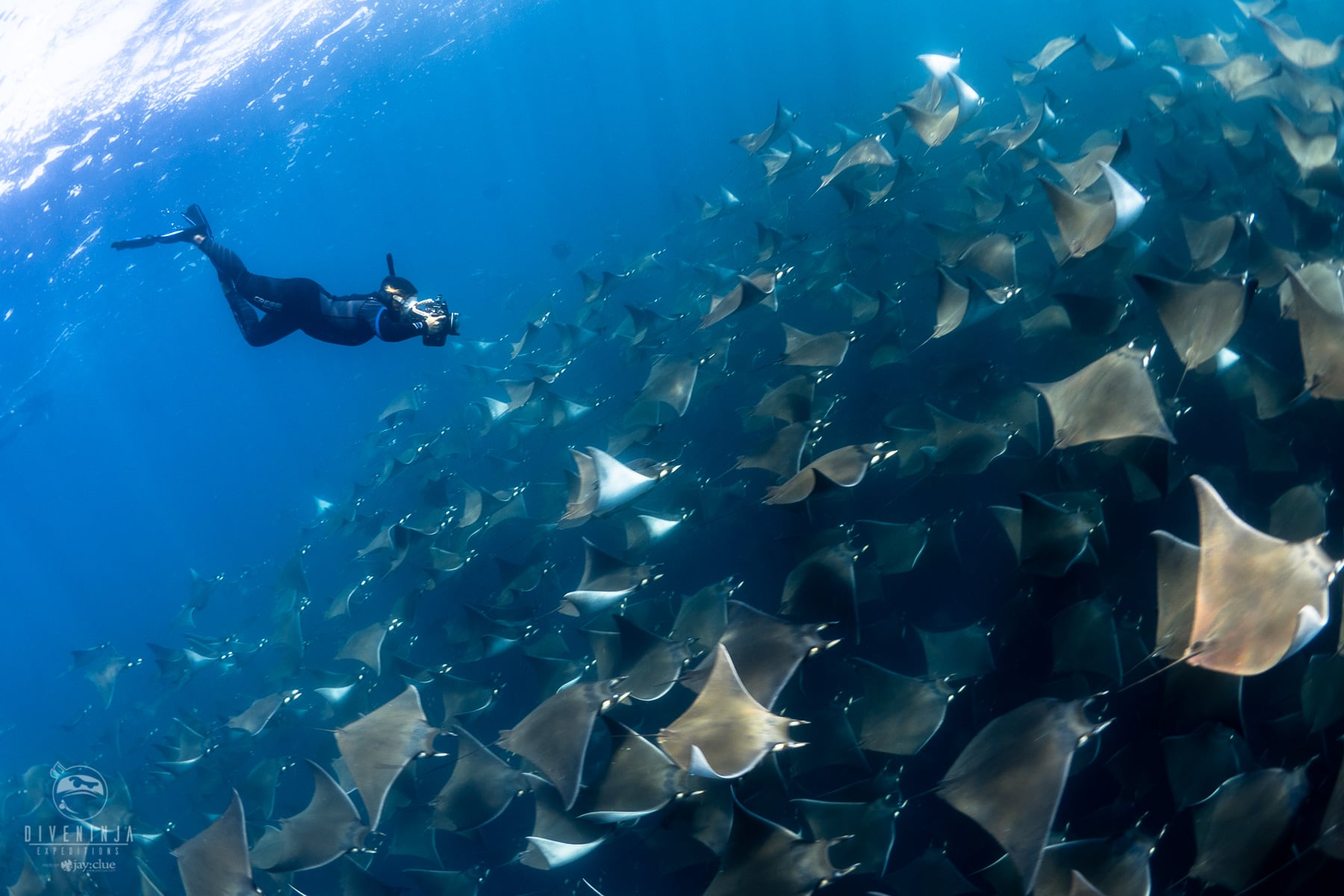 To Bubble Or Not To Bubble
Some other physical aspects of the two sports have big effects on the type of wildlife we can encounter while freediving and scuba diving. Some marine animals are almost impossible to get close to while scuba diving, for their speed or their reaction to our bubbles and the noise we make while scuba diving. For example, swimming with Striped Marlins feeding on giant bait balls in the open ocean would be quite in-efficient with scuba gear. Needing to swim fast and jumping in and out of the water with a tank, reg and BCD would take a lot of effort and keeping up with the fast swimming fish and marine mammals would be very difficult. Also, our bubbles may scare some species, as they might associate bubbles with predators. Some marine mammals, such as orcas and dolphins blow bubbles to create curtains/barriers to push their prey into bait balls or separate them from their group, like the Mobula rays that congregate off the shores of southern Baja. On the other hand, some times, you could see more, if you could 'sit' on the bottom and wait, like taking the perfect nudibranch shot, or even 'entertain' the aquatic animals. For example, the Manta rays of Socorro, known to come to divers just to feel the bubbles on their bellies.
Mind Games
The last difference for this article, and the most important in many divers' opinion, is the mental aspect. I see it as 'what it is all about'. Scuba diving is about what is happening around you in a certain environment (underwater). Whereas freediving is about what is happening within you in that same environment. Being a good freediver will take a lot of self exploration and knowledge, as opposed to scuba diving which requires ability to use gear and understanding of gas behavior in different circumstances. Freediving requires a lot of mental capacities and physical awareness. Most divers physically feel the changes while freediving, much stronger than while scuba diving. In scuba we don't usually feel the pressure change, unless we forget to equalize our ears. Which means, we don't usually think about it as much.
Both scuba and freediving are great ways to encounter marine life and enjoy the amazing aquatic world. I have learnt so much from both activities and experienced incredible encounters in both situations. I believe that having both skills will give you the best opportunities and abilities to see and interact with the most amazing wildlife in the most amazing scenery. Some things are better while scuba diving and some are better while freediving. So why choose just one when you can enjoy them both? Contact us for more information. Or, click bellow to sign up for our scuba and freediving courses.