Guadalupe Great White Sharks!
SOLD OUT!!!
Join us August 21-26,2022 as we head back to Mexico's infamous Isla de Guadalupe, for what's known as "The Best Great White Shark Diving on the Planet". Get ready for up close encounters with these massive beautiful apex predators in crystal clear blue water with visibility regularly reaching upwards of 35+ meters (115+ feet).
Great White Shark encounters at Guadalupe Island are nothing short of jaw dropping. Located a 16 hours sail from Ensenada, Mexico, it is hands down the best destination in the world for calm, clear water and a consistently high probability of multiple shark encounters per day. The sheer number of sharks in the bay where we dive is just amazing. Guadalupe is home to at least 350 individually identified great whites and we are still counting. On average 30 new sharks are identified each season! Plus on most dives, we see multiple great whites around the cages! Last trip we spotted 10 in just one dive!
This trip we are heading back to catch the mid season excitement when all the big males show up! In August most of the younger males show up and begin to compete to lock in their spot in the local hierarchy before the females arrive. Historically late August has always given us the best action at Guadalupe! It's going to be an awesome trip. Check out the full info below and then sign up today! Spaces are limited!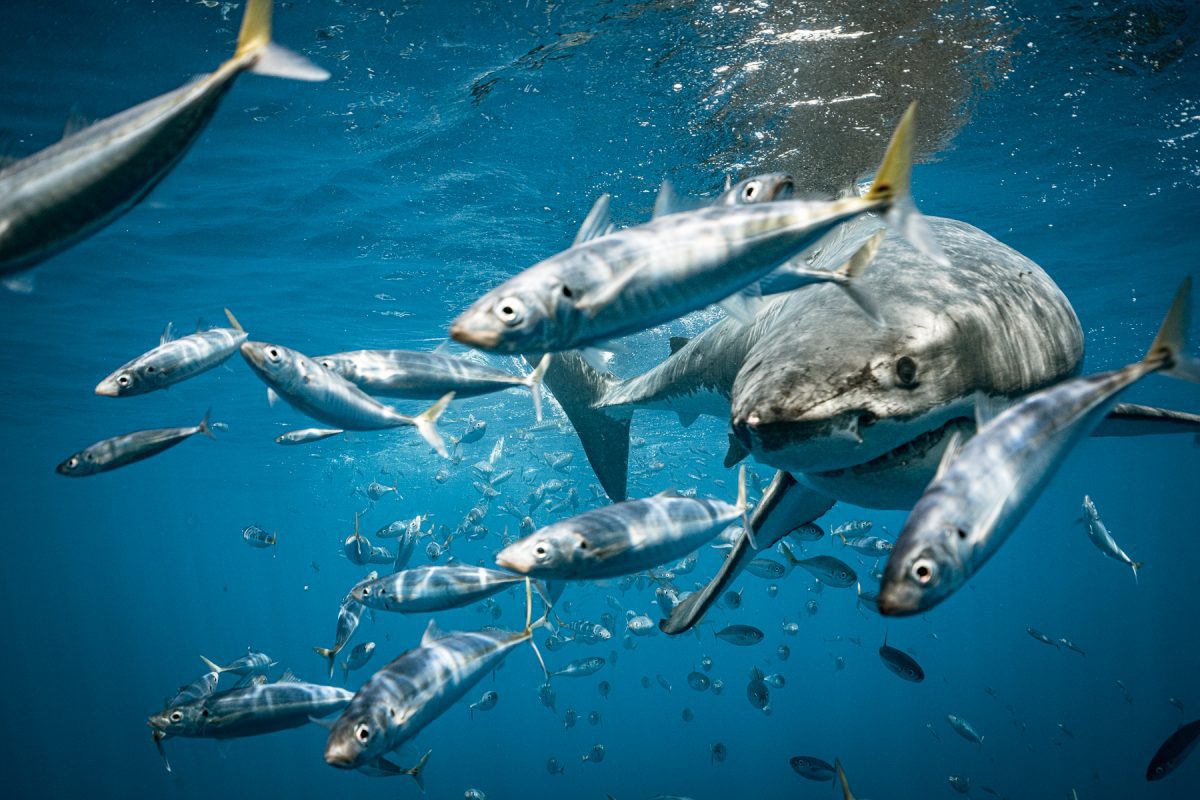 The Ship:

For this special trip we have chartered the 105ft (32 meter) Nautilus Under Sea – our favorite vessel for trips to Guadalupe and Socorro! Unlike most of the ships going to Guadalupe the Under Sea takes only 18 guests making for a more intimate experience. She's a beautiful ship with an incredible history that includes starting her life as a submarine tender to Dr Perry of Perry Oceanographic. She then spent her time as one of the most famous dive boats in the world working in Cocos Island and creating  IMAX adventures in the South Pacific. In 2017 she was completely refurbished with a new superstructure, and extended sundeck, and a brand new stability system. Beyond that she was also kitted out to fit the comfort and luxury that the Nautilus brand is known for including a hot tub, full bar, huge camera tables, a spacious dive deck, and so much more. Her heavy steel construction and custom stabilization system is designed perfectly for ocean crossings and makes her ride smooth and comfortably. She's also kitted out with a wide range safety features that you normally don't see on liveaboards as well as being ISM safety certified.
Logistics:
We've made it easy with 2 options for getting to the ship! You can either fly into San Diego, California and catch a shared transfer to Ensenada to meet the ship through Nautilus or you can fly into Tijuana, Mexico and hop an Uber, bus or taxi to Ensenada and meet us directly at the ship. We can also organize private transport for you from San Diego or Tijuana to the ship if you prefer. We will meet for ship check in at the Hotel Coral in Ensenada at 7pm. A roundtrip transfer through Nautilus costs $100 USD, but they give you the $100 back as a voucher to use on board for rental gear, gift shop, or bar.
Price:
Join this exclusive ninja trip for $3195 USD per person in a deluxe stateroom. There are also options to upgrade to a premium suite or single supplement too!
What's Included:
Full accommodation on a shared occupancy basis (upgrades available for single supplements), photography tutorials by award winning pro photographer Jay Clue, 4 delicious meals per day (continental breakfast, hot breakfast, lunch, 3 course dinner with dessert, plus snacks & non-alcoholic drinks), unlimited diving in the surface cages, 3+ dives per day in the submersible cages, in-water divemastering by certified marine park shark guides, presentations on great white sharks,  Nautilus trip video, and onboard facilities such as the hot tub and lounge. Additionally Nautilus provides a free pre trip COVID test before boarding.
What's Not Included:
Port fee of $65 per person (payable onboard in cash), Marine Park fee $225 USD per person (paid in advance), crew tips/gratuities (10-15% is recommended, cash and cards are accepted on board), gift shop purchases, bar tab, rental gear, onboard WiFi access, and 5% Mexican IVA (Nautilus charges 5% Mexican sales tax on the ticket price).
Note: You do not need to be a certified diver to cage dive, but should be very comfortable in the water and breathing from a scuba regulator. Non certified divers are welcome to unlimited dives in the surface cages, but to enter the submersible cages you must be a certified diver. Additionally, if you are traveling solo, no stress! We will match you with another solo ninja guest of the same gender for your accommodation.
Expedition Quick Facts:
Ship: Nautilus Undersea Hunter
Board: August 21, 2022, 7pm
Disembark: August 26, 2022, 2pm
Duration: 6 Days, 5 nights
Dives per day: Unlimited Cage Diving
Departing from: Ensenada, Mexico
Nearest Airport: San Diego, USA or Tijuana, MX
Trip Cost: $3195
Min Deposit to Reserve: $1200
Meet Deep Blue
News coverage of Deep Blue, the largest shark ever recorded, from Isla Guadalupe.